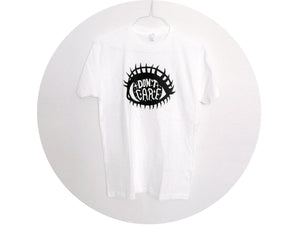 EYE DON'T CARE
Design is screen printed onto ultra soft white Next Level Apparel shirts. These are a tad fitted so please consult with the size chart below to determine your size.
**Available in other sizes**
DETAILS
100% Cotton
Fitted Crew Neck
CARE INSTRUCTIONS
Machine wash cold to prevent shrinking.
Tumble dry low.
SIZING
╯▅╰╱▔▔▔▔▔▔▔▔▔▔▔▔▔▔╲╯╯☼
▕▕╱╱╱╱╱╱╱╱╱╱╱╱╱╱╱╱╲╲╭╭
▕▕╱╱╱╱╱╱╱╱╱╱╱╱╱╱╱┛▂╲╲╭
╱▂▂▂▂▂▂▂▂▂▂▂▂▂╱╱┏▕╋▏╲╲
| SIZE-------NECK-----CHEST---WAIST-----ARM---
| Small......14-14.5''.....34-36''....28-30''....31.5-32'' |
| Medium..15-15.5''.....38-40''....32-34''....32.5-33'' |
| Large......16-16.5''.....42-44''....36-38''....33.5-34'' |
------------------------------------------------------------------